By Pam Gompf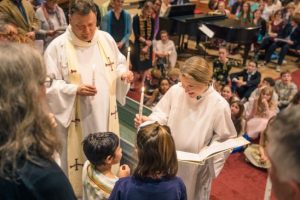 I have been doing some thinking about my seminary education.  I have enjoyed my classwork and the insights I've gained from fellow students and professors.  I hope that my life experience of raising three children and working as a youth minister over a decade will come through in preaching and teaching.  I know the Spirit has been at work in me for some time now and have been pleasantly surprised at how it has spoken to me, particularly in my internship.
I was placed in a church that had practiced the catechumenate for a number of years.  Much of my own history with the Church had been with new member programs. Sometimes it was a conversation with the pastor and brunch with a welcoming committee.  The church I was placed in was intentional about its missional call to baptism and welcome. When the process began in the Fall, I became knee-deep in one of the small groups. I found that it was not only welcoming seekers and newcomers, but also me.
The congregation was beginning to know me. I shared more and more about my own background. Being part of a small group and occasionally leading it, allowed me to listen to them more closely.
Through weekly Bible studies and rites, I noticed things, but it was at the Easter Vigil that I was overcome.  It was the huge community turnout.  The baptismal font was filled by the community of believers who process forward, pouring water they have brought from home in a special container signifying their own faith journey.  I thought this "font" (a horse trough!) might overflow.
Isn't that what the grace of God does? Literally. It overflows for us; washes over us and makes us clean and whole again; renews and redeems each of us. Witnessing a full year's journey of the Catechumenate moving towards the Easter Vigil, felt like a family throwing a welcoming party. Not only did the waters of baptism overflow, but so did my own tears of gratitude.
I can't imagine any other way of welcoming new members into the Body of Christ than the Catechumenate. There is still food and shaking of hands like other faith communities. There is still the naming before all as new members. But this is different. This is coming home. Finally coming home; and everyone rejoices.
Pam Gompf served as Vicar 2018-19 at Phinney Ridge Lutheran Church and is now awaiting call in the Pacific Northwest Synod of the ELCA.