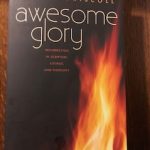 Review by Jerry Pare', JBL Board Member….
In Awesome Glory Abbot Jeremy Driscoll, O.S.B. of Mt. Angel Abbey in Oregon has given us a gem for gleaning insights into the theology and liturgy of the Triduum and Eastertide.  Dom Driscoll has written popular books such as What Happens at Mass and scholarly works such as Theology at the Eucharistic Table.  Awesome Glory is somewhere between scholarly tome and a popular theological read.
Awesome Glory contains two parts.  The first is an examination of theological terms used in discussions of the death and resurrection of Christ Jesus.  This section lays the theological foundation for Part Two, an exegesis and commentary on the readings and the rituals enacted in the course of the Triduum, Easter and Eastertide liturgies.  There are many commentaries on the Triduum and Easter Sunday liturgies.  There are significantly fewer that continue by examining the Easter Octave, Ascension Thursday and Pentecost, especially in more popular works on the Paschal season and Pentecost.
It would be difficult to understand Abbot Jeremy's liturgical exegesis and commentary without carefully reading Part 1, "A Summary of the Proclamation in Theological Terms."  Here, Driscoll focuses on the expression Paschal Mystery," a term that "enables us to say all at once:  death, resurrection, ascension, sending of the Spirit, and establishing the church" (p. 9).  In this context, the analysis of two meanings of pasch is fundamental to understanding the rest of Awesome Glory.  Pasch means both passion/Passover (Ex 12) and passage (Ex 14).  "The Triduum liturgies are a wonderful, intricate web of paschal themes taken from Exodus 12 and 14." (p. 12)  Driscoll then uses the dual meaning of pasch, as expressed in Paschal Mystery, in Part Two, the examination of the liturgies of this central period of the Church year.
Abbot Jeremy notes in the dedicaton of Awesome Glory that it is for the monks of Mt. Angel Abbey.  Rather, it is for all of us who are interested in a better insight of the Triduum and all of Easter.  Read it now to enhance your understanding of our journey through the celebration of Jesus' passion, death and resurrection.