By Larry Ehrens, JBL Board Member and Vice President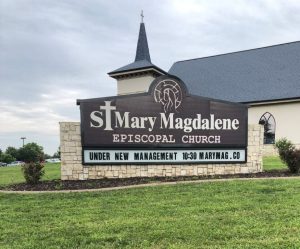 After facilitating the Catechumenate in a Cathedral parish and several good sized suburban congregations, I was unsure how to go about this same ministry in a smaller setting. My question was: Is the Catechumenate scalable to smaller churches?
Our new church plant has a Sunday attendance between 50 and 60 persons. We have a new building and a big mortgage. There is a wonderful circle of dedicated members who have led this congregation through a string of changing clergy, financial ups and downs, and the everyday challenges of maintaining eight acres of land. This same small group is on the edge of burnout — and is always looking for new members to engage in the ministries of the congregation.
To my delight, two young women expressed a desire to be baptized. There is no history of the Catechumenate in this congregation.
Small church communities have a number of unique qualities which allow the Catechumenate to flourish. Healthy ones have an amazing sense of community. Members are known to one another. They pull together for a common goal and they let you know if they do not like something. I like to think that the communities that Paul visited were similar to today's small churches.
Here are my initial thoughts about how to go about establishing a Catechumenate in a small church:
• Spend time with each of the potential Catechumens to hear their stories, and what is calling them at this moment.
• Begin to recruit and form a small Catechumenate team. Spend some time listening to where they are in their faith journey.
• Facilitate several group sessions on the process of the Catechumenate and do some community building among the group members.
• Gather the potential catechumens, the catechumenate team, and members who have not been confirmed in other Christian denominations beginning in January. Our group will gather before the main Liturgy on Sunday morning.
• Use the basics of the Catechumenate on a smaller scale, reflecting the size of the congregation.
If the Catechumens are ready, Adult Baptism would occur at the Easter Vigil. Adult Confirmation and Adult Reception in Regional Gatherings with the Bishop occur between Easter and Pentecost. The group would meet for Mystagogia until Pentecost. The small Catechumenate community would be uniquely involved in the Pentecost Liturgy.
Although probably common pastoral sense, the power of gradually being intimately incorporated into a small church community will be very meaningful and grace filled. In this case, smaller may be better than bigger.
Some further resources on this topic:
• A Harvest for God: Christian Initiation in the Rural and Small Town Parish by Michael Clay; Liturgical Training Publications; 2003
• Go Make Disciples: An Invitation to Baptismal Living – A Handbook to the Catechumenate; Editors — Dennis Bushkofsky, Suzanne Burke and Richard Rouse; Augsburg Fortress Press; 2012
• www.MountainGrace.org: A blog created by the Rev. Jon White who serves a small Episcopal Church in Central New York State. The focus of the blog is on small church vitality. The section on Formation contains a fine overview of the Catechumenate.
Larry Ehren is an Episcopal Priest, currently serving St. Mary Magdalen Episcopal Church in Belton, Missouri. He is completing his Doctor of Ministry degree in Christian Spirituality at the Virginia School of Theology.