By Michael Marchal, JBL Board Member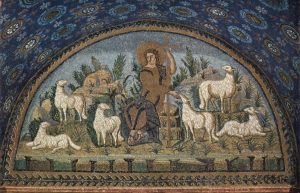 A primary link with the ancient world in our catechumenal practice occurs in Cycle A when the three Johannine stories of the Woman at the Well, the Man Born Blind, and the Raising of Lazarus are proclaimed on the middle Sundays in Lent. These stories have been the core of the period of intense preparation since the 3rd Century. The baptismal candidates are asked to see in the characters of these stories as a reflection of and a challenge for their own developing relationship with Jesus.
The late 20th Century reform of the lectionary has also meant that the Sundays of Eastertime are now more closely related to the process of postbaptismal reflection called mystagogy. These Gospels can be our guide for this crucial component in the process.
On the 2nd Sunday of Easter the gospel of Doubting Thomas shows how the man most resistant to belief became the most ardent believer through his personal encounter with the risen Jesus. The 3d Sunday's Gospel about the risen Lord's encounter with the community in the context of a meal is a reminder that the Eucharist is the primary focus of our shared encounter with his living presence. The 4th Sunday's Gospel portrays Jesus as the Good Shepherd who guides and feeds his flock now and into eternity.
The first four Sundays of Easter thus ask the newly-baptized to reflect upon what they have experienced during that sacramental celebration and how it continues to affect their life of prayer and worship. Yet the Good Shepherd image segues into the other task of mystagogy—how will the new life of grace that they now share be lived out more fully? The final four Sundays which read from the Last Supper discourse open up for them the love and peace which are the signs that mark an authentic Christian life.