By Elise Eslinger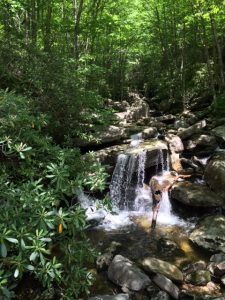 During a recent Blue Ridge getaway weekend with my husband, to celebrate our wedding anniversary and his birthday, we were unexpectedly diverted onto a detour route. That bumpy road became a gravel pathway, probably an access road through that part of Pisgah National Forest! In the midst of our slow and winding drive through those beautiful yet unknown and unmarked environs, we came to a single-lane bridge which crossed a gorgeous, tumbling river stream and waterfall. We stopped, of course, and experienced with the living water before us a cherished moment together—remembering our baptismal identity and vocation with gratitude. That moment will be interwoven forever with birth and new birth and years of marriage and ministry together! The sight and sound of that gurgling stream of living water refreshed us as we later proceeded home to interruptive news of a large tree having been downed onto our roof by the severe thunderstorm while we were away!
The living flow of the waterfall and the experience of the aftermath of a severe thunderstorm both reminded me powerfully of my current reading in Richard Rohr's wonderful new book, The Divine Dance: The Trinity and Your Transformation.* This is a rich, evocative exploration of new ways to think about and experience the Holy Three-in-One: as Flow, as a dance of loving relationship into which we are invited to participate. God-with-us, yes, and foundationally, God-for-us. Our baptismal identity in the risen, living Christ (and our particular vocations) flow from this Love and this Spirit-movement. The Trinity is not here imaged as a "triangle" but as an infinity sign—the Eastern Orthodox symbol for the Trinity! Yes, let's do participate as catechumenal leaders and companions in that Divine Dance as we share personal and communal journeys—-to "live wet" within the Flow of Love for all God's creation.
*The Divine Dance: The Trinity and Your Transformation. Richard Rohr (with Mike Morrell). Center for Action and Contemplation, Albuquerque, NM (cac.org), Whitaker House, 2016.
---
Elise Eslinger, D.Min is a Consultant in Worship, Music, and Spiritual Formation as well as a JBL:NAAC Board Member.