By Terry Martinez, JBL Board Member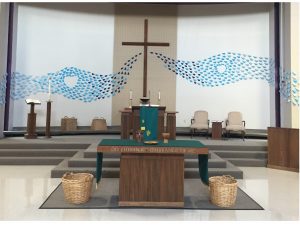 "Our faith is formed by the practices that shape it."
Our Pastor, the Rev. Dr. Christopher Q. James, was searching for ways to help a congregation recover its baptismal identity – never fully formed due to the diminishment of sacramental practice in the larger Presbyterian/Reform tradition. "I was committed to planning and leading worship that was centered around the font on a weekly basis. I wanted to help the congregation understand how its ongoing life is continually formed by these sacramental waters," he said.
"The changes I was making in worship were important, but were not enough by themselves. I had heard about the Catechumenate for several years, but knew it was such a wholesale paradigm shift in the way we 'do church' that I was waiting for the right moment and prayed that I would recognize it when it came." That time came in 2015 when a small leadership team was formed to explore the Catechumenate and see if this was right for our church. From this process THE JOURNEY was born!
We were surprised when 16 travelers signed up for the first session: further evidence that the time was right. Since then, we have offered five sessions of THE JOURNEY. 71 members have participated as a traveler/companion. Of those 71, 12 have become new active members of the life of New Hope and various ministries outside the church.
THE JOURNEY has transformed New Hope! We have become a stronger, nurturing and welcoming community. Our outreach and missions, both in New Hope and the church universal, are more meaningful. Most importantly, as the Rev. James puts it, "The Catechumenate has taught our congregation that not only is it okay to have questions about faith, but nurturing those questions in a safe and inviting space leads to deeper, stronger faith and deeper stronger relationships among one another."
Asked if he would recommend the Catechumenate to other congregations, the Rev. James said, "The Catechumenate takes tremendous effort, time and patience. It's messy. It is completely different from the way we are used to 'doing church.' It takes commitment to let it grow and to learn from it over the course of time. I would recommend it because it will change you. I would also be cautious to recommend it because it will change you."
New Hope Presbyterian Church is excited to be hosting an Adult Catechumenate Training in October and sharing our stories with others. Click here for information on the training.
"THE JOURNEY is the most significant contribution I have helped to bring to our congregation in my 17+ years as its pastor. Of all the ways pastors work to equip and empower the members of the congregation for ministry, I believe THE JOURNEY has done so the most." – the Rev. Dr. Christopher Q.  James