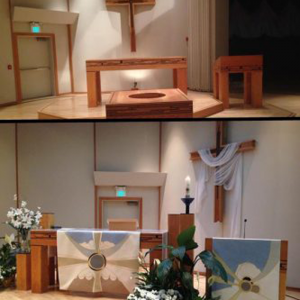 (Note: we are resending this blog post from last week, since due to some technical issues, some of you may have missed it.)
By Kyle Schiefelbein-Guerrero, Ph.D.
I decided to visit my parents in west-central Minnesota for Easter. The last time I had been in Minnesota for Easter was 10 years ago, before moving to California where I am accustomed to celebrating the Easter Vigil. Opportunities for the Vigil are somewhat lacking in small-town Minnesota, for practical (timing with milking the cows) and historical (piety) reasons. Instead, most Lutheran congregations offer a "sunrise service" starting around 7:00 am as the primary Easter liturgy.
Participating this year, I reflected on the multi-layered ritualizing that was occurring. Many of the primary Paschal symbols were present – Paschal Candle, bread and wine, water, the gathered congregation singing "Alleluia" – and the theme of darkness into light was definitely present (the sun rose as we gathered). One ritual that I greatly appreciated (and almost forgot) was women leading the procession to place the paraments, linens and vessels on the altar that had been stripped on Maundy Thursday.
Reforms of Holy Week, reintroducing the full Easter Vigil, and reforms of Christian initiation, reintroducing a structure of the Catechumenate, occurred around the same time, so they have been connected in recent liturgical reform. Such tight connection may force congregations to think that one requires the other. The Vigil may not be possible for some, but the totality of journeying to the font is still possible.
The simple ritual of re-dressing the altar may be a place where Christian initiation can have its strongest connection. Paul and his students remind us that "being clothed with Christ in righteousness" is part of baptism (see Galatians 3:27; Colossians 3:9-10). Dressing the altar, just like dressing the newly baptized in ancient ritual, connects the baptized to the Church and the entire body of Christ.
What might Christian initiation look like at an Easter sunrise service? Its placement could parallel where it is placed in the Vigil: baptism near the beginning, prior to re-dressing the altar and the proclamation of Easter. The congregation might be sprinkled as the altar is re-dressed and the lights are raised for Easter.
Share your comments and questions about this post on our website.