By Elise Eslinger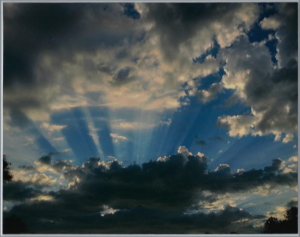 A world in turmoil
The world, the nation, the churches, our cities and communities are in conflict and turmoil. Even creation itself is groaning. How to respond in this season? "Write the vision plainly, so that a runner may read it." (Habakkuk 2:2) In this digital culture, what makes for such a plain vision— a blinking display on one of those huge signs, or massive texting, twittering, messaging?
"Destruction and violence are before me; strife and contention arise." (Hab. 1:3) We cannot escape instant images of war, famine, natural cycles or disasters, murder on the streets and in our children's schools, as well as the strife and contentions ever visible in families, government bodies, and, yes, our churches. Overwhelming—what can one "living wet" person do?
Called to trust
"But the righteous live by faith." (Hab. 2:4) Oh dear, oh yes. Surely this affirmation is both personal and communal, on behalf of God's shalom intentions in any circumstance or season of life? The prophet Habakkuk experienced times of great besiegement, yet once his complaint was voiced, he chose to keep watch and to await God's response. What a contrast to many of our contemporary behavior patterns; yet, our hearts are called even now to such attentiveness and trust. We need certainly to lament authentically, to pray honest complaint, and then together to listen, look, watch and pray for guidance toward attitude and action.
So very often this attentiveness is experienced when companions in Christ share the baptismal journey in catechumenal seasons of congregational life and ministries. Perhaps our opened eyes will come to see, to discern, how God is indeed at work in our beleaguered world, and how we are being called to participate in that grace. We may be urged not only to "write the vision plainly," but, indeed, to "live it plainly," living very wet, just as the saints and countless faithful disciples have through the ages.
God of the ages, we thank you for the vision written plainly in the life of Jesus and pray that we who follow him will bear witness faithfully, day by day. Amen.
Elise Eslinger is a member of the JBL:NAAC Board of Directors. 
You may share your responses to this post on our website.