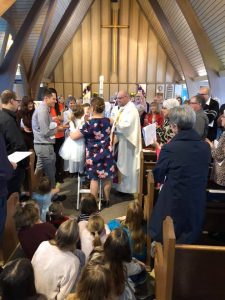 Sometimes a presentation on the process of the Catechumenate can lead to an initial feeling of being     overwhelmed.  Perhaps it feels like an "all or nothing" situation and the reasons not to proceed (excuses?) come out.  "We don't see any adults asking for baptism."  "We don't have enough volunteers who aren't already overcommitted." "When will all the other work of keeping a church going be accomplished if we do all this?"
These might be the moments to think about the popular notion: "doing something is better than doing nothing at all."
In an active suburban Anglican congregation in Southwestern Ontario, Canada, some participants of the congregation – many participants of EFM (Education for Ministry Program) – were convinced to take part in a special off-campus course in the Catechumenate offered by the local theological school.  At the conclusion most felt daunted by what they had heard.  Although convinced of its merit, it was hard to imagine how on earth they would even get started.   But, it is a congregation that sees a relative frequency of baptisms for infants and young children.  Much of the time, the congregation was surprised by these baptisms, not knowing the families involved and having the sense that they would never see them again.  What about – as a first step – introducing some "catechumenate" elements to what is happening here? Things like: parish sponsors to accompany the family along the journey of preparation; including the adapted rites of Welcome and Enrollment spaced out over the weeks preceding the scheduled baptism; reserving baptism to key and meaningful moments in the Church's calendar year; pamphlets for everyone who approached the priest with a request for baptism, describing the congregational discipline of preparing for baptismal action as an incremental journey and work towards a new life in Jesus life, death and resurrection.
Following the first experience of these additions of catechumenal style and process, comments are already emerging from the whole congregation.  Baptism is raised to a new level of meaning.  There is incremental engagement between congregation and baptism families from first meeting to the day of baptism and beyond.  It has all been relatively easy to begin.  The first steps are bound to lead deeper and beyond.  Pray for the courage and the faith to just begin to do something.
The Rev. Canon Greg Smith is Director of Field Education at Huron University College, Faculty of Theology, London, Ontario, Canada and Honourary Assistant at St. Aidan's Anglican Church, London.