By Greg Smith, JBL:NAAC Board Member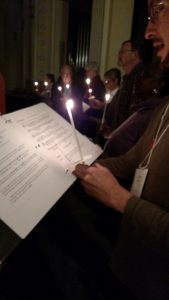 A JBL Training was held in Ottawa, Canada from October 25-28 using facilities at St. Paul's University in Ottawa.  The Training was jointly sponsored by the Anglican Diocese of Ottawa, the Eastern Synod of the Evangelical Lutheran Church in Canada and St. Paul's University.  St. Matthew's Anglican Church in Ottawa generously hosted the event and supported the training with significant resources.
Approximately 40 individuals participated, representing both Anglican and Lutheran churches from the area. Trainers, Bev Piro and Greg Smith, from the JBL Board, worked with local organizers, the Rev. Gregor Sneddon (ACC) and the Rev. JoAnne Lam (ELCIC) who made the local arrangements and planned all of the liturgies.
Catechists trained on the Job
For the first time, those acting as catechists in group leadership were all new to the task. With an evening orientation beforehand, they all contributed to an atmosphere of hospitality and formation, which resulted in a thoroughly engaging event.
Enthusiastic Feedback
Preliminary feedback for this method of catechumenal formation for baptism was enthusiastic. Participants expressed the value of important experiences within the format of the Training, inspiring  hope that the Catechumenate will move forward in the area. They also hope that this might be the beginning of rejuvenating the Catechumenate within the Anglican and Lutheran churches in Canada.
Poignant Moment
One moment of this Training was particularly poignant. We were all a part of an Easter Vigil service on Saturday night: lighting the Easter fire in the first snowfall of the Ottawa winter and carrying our points of light into the darkness where we heard the stories of our God's saving actions for us.
On the following morning we woke to hear of the violent attack on worshippers in the Tree of Life Synagogue in Pittsburgh, PA. We realized that this violence had been happening even while we took ourselves through the Easter Vigil.
The morning's work in the Training was to practice Mystagogy – reflection on the experience of the Easter Vigil. This turned out to be deeply meaningful work for us within the realities of current events: walking wet with the waters of baptism within a world where hate and violence is so present. The hope we have to shine on this world through those small points of light lit at the fire of Jesus Christ and the proclamation of Resurrection triumph over the powers of death, will stay with us for a long time.