By Lance Georgeson, JBL Board Member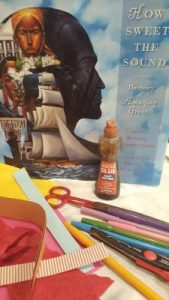 Certainly one of the most impactful exercises in early sessions of the catechumenate is the "faith timeline".  We have consistently found that this fosters a sense of intimacy in the small group and sets the tone for the entire process:  both Candidates and Sponsors begin to see that their stories are connected with God's story of the life, death and resurrection of Jesus.
However, it became clear before a Team retreat that we had never shared our faith timelines with each other as a group.  We may have heard bits and pieces, but we'd never sat and listened to one another.
Enter two Team members using a different approach:  Donna, an art therapist for over 30 years and Tina, a college education professor for roughly the same duration.  These two women used their gifts to approach this exercise in a new and creative way.
Tina began by reading and showing the picture book, "How Sweet the Sound:  The Story of Amazing Grace".  The book was appropriately chosen, and at the conclusion we were asked to reflect in writing on the theme.  It felt like we were children again gathered in a circle . . . perhaps the best introduction to the next activity.
Donna had brought an incredible amount of materials used in her art therapy:  construction paper, glue, beads and ribbon.  We were tasked to tell our story in symbol or picture any way we could, using the materials at hand.  For those of us who are "artistically challenged" this would normally be almost threatening, but Donna's words about "anything goes" helped us to begin cutting and pasting.
The results were wonderful!  The diversity in pictures was inspiring – from very simple to complex and sophisticated.  The explanations behind the graphics were heartfelt and moving.  It became apparent that just the use of different medium allowed many of us to express both struggles and joys beyond the use of words and text.
One of the great gifts of the catechumenate is that it's a process that is adaptable, centered around a few key principles and beliefs.   A critical aspect is to allow the Spirit to move in creativity, such as it did that day with Donna and Tina in a new approach to a familiar activity.
Lance Georgeson is on the mission team for the catechumenate at Phinney Ridge Lutheran Church and serves on the JBL Board.