By Eddie Francis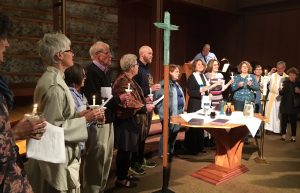 Fremont United Methodist Church in Portland, Oregon began their catechumenate, Sacramental Living, a year ago. Eddie Francis was one of the first catechumens and was deeply impacted by the process.
As a child, Eddie resented having to go to church since the message didn't resonate with him. As an adult, however, he started attending a UMC church with his girlfriend (later wife), when he was going through some difficult times. A few years later they moved and started attending Fremont UMC. When they approached Pastor Linda Quanstrom about having their son baptized, she invited them to join Sacramental Living. Although apprehensive, they joined the group and discovered, to their surprise, that they weren't baptized. They decided to be baptized along with their son.
Eddie writes:
The Sacramental Living process was my first experience with any real religious teaching outside of church services. I'd never attended a bible study of any sort, didn't go to any church camps growing up, and really only attended a handful of Sunday school classes as a kid. This was all new and a little scary for me, but I was determined to get the most out of it.
In addition to reading and studying the bible for the first time, I also got to experience praying with the group, which had always been a pretty private practice for me. Rather than being scary it became something that I looked forward to at the end of each class.
Through it all, one of the things I'll take with me the most was forming and deepening new relationships with others in the church. My sponsor, Paul, was amazing and I'm thankful our families got to know each other throughout this process. Paul made a point of making time for me outside of the class and was a great resource and companion to have on the journey.
Culminating the entire experience was the actual baptism, and that was very special for me. It really felt like my journey to the church had been . . . completed. I'm not sure if "completed" is the right term, maybe my journey "began," but I felt like I'd closed some sort of loop. Experiencing baptism with my wife and son, along with the other important people in my life and our church family, was something I'll never forget.
I'm thankful that our son will be brought up with a better relationship to God and the church than I ever did. And as an added bonus, we've made some new wonderful relationships inside the church!
How does Eddie's experience resonate with you? Share your thoughts and comments on our blog.