By Karen Peterson, Phinney Ridge Lutheran Church, Seattle, WA
There is one ritual that has a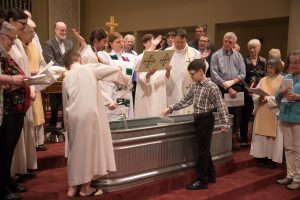 lways been precious to me since I affirmed my baptism through the catechumenate. In our congregation, we have a "water procession" during the Easter Vigil just before the Rites of Baptism and Affirmation of Baptism begin. All members of the congregation, young and old, are encouraged to bring a vessel that is meaningful to them from home. That vessel is filled with water and they bring it forward to pour it into the larger tub that serves as our baptismal font. I love the imagery of the whole community adding to the baptismal waters, connecting all the saints in one community. It is especially meaningful when there's an infant baptism, since I've been a neonatal intensive care nurse for many years and I see these babies washed in the waters that so many others have provided.
I came into the catechumenate following a difficult breakup of my marriage to a pastor. I didn't have to go through this process to "join" the church, but was encouraged to and I experienced it as a welcoming and nourishing experience. I felt accepted for who I was as a Child of God, and felt that by affirming my baptism alongside others meant "new life" just as much for me as for those who were baptized at that Vigil. When the pastor prompted all of us during the Vigil and I said along with them "in faith I turn to Christ", I knew that although my faith journey might have been very different from others, this baptism somehow "wove" us all together.
Since that Vigil 13 years ago, I have served as a Sponsor to several other women. Each has been very different, and I have watched each share the difficult parts of their own faith journey with me and with the others in our small group. Besides the water procession, it has been the Rite of Welcome – with the Sponsor "crossing" the different parts of the Candidate's body – which has been so impactful for me. It's a reminder that we are to use all of ourselves to do God's work in the world. To have been crossed by another and to cross others and then to see others in the congregation – including my adult son – experience this rite and this process has been life-giving.
I think the catechumenate has the power to restore a person as an individual in a community; to help them heal and see themselves as a servant of Christ in the world. I love the sharing that happens in the small group, the Bible studies and questioning. But I am surprised and in awe of how the catechumenate forms a faith community from many different sorts of people. Maybe it is fitting that at this point in my life I've begun making quilts at the church…alongside the woman who sponsored me, now 13 years ago.
Share your response or questions on our website.