By Bev Piro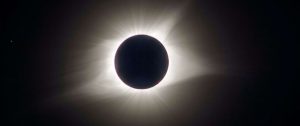 The light shines in the darkness and the darkness cannot overcome it. John 1:5
That is one of my take-aways from the solar eclipse last month. My husband and I traveled to the Agate Fossil National Park in the Nebraska panhandle, the ancestral grounds of the Lakota, to witness totality for about 2 and a half minutes. One of the most striking observations was that as long as the tiniest slice of the sun was not obscured, there was still a measure of light upon us. And when the moon totally obscured the glowing sun, the magnificence of the solar wind and flare was astounding. I expected to see a thin aura of light but we saw an explosion of light that neither the moon nor anything else could overcome. A Lakota man drummed during totality, calling the ancestors to their first home. It was a spiritual experience.
In these moments when unexpected and unanticipated enlightenment overwhelms us, we are forever changed. It calls to mind the Samaritan woman at the well who left her bucket and ran to tell the others that regular water just wouldn't do anymore because this man, Jesus, offers living water; or the man born blind who, through multiple retellings of his story times, comes to see ever more clearly who exactly it was that put mud on his eyes and told him to go wash. These and many other close encounters with Jesus beg for a community to help them understand the depth and breadth of their experience. Encounters with the living God at a well, in the marketplace, at the bookstore or grocery store or coffee shop, change everything. It is the calling of the Church community to affirm, embrace and interpret such encounters.
A congregation shaped and formed by the catechumenate provides an inviting and welcoming place to hold those unexpected and unanticipated moments of engagement with the holy, where ancestors of the faith, both living and dead, are called upon to open eyes and hearts to the magnificence of God in the sun, the moon, the stars, and yes, even us.
Share your comments about this blog on our website.
Bev Piro is an ELCA pastor and president of the JBL:NAAC Board of Directors.