Come to the Annual Gathering and leave with a resource for restoring the connections!
By Bev Piro, JBL:NAAC Board President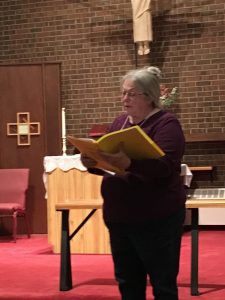 The Loss of Connection to God's Story
The Bible is our best avenue to know God's Great Story of saving acts. We travel from the flood, to the crossing of the Red Sea, through the Israelites' Babylonian captivity to the death and resurrection of Jesus. Through these stories we come to know God as one who acts on behalf of humankind to restore connections with the divine and our relationships to one another. So what difference does that make in the life of the church or, for that matter, in my personal life? Many churches where the faithful and the questioning come to meet and be nourished by the Great Story have become central gathering places for "friends and ersatz family" doing an honorable measure of care for the poor or homeless. However, they have lost their rootedness and connection to the God's Great Story.
How Do We Restore the Connections?
JBL:NAAC's Annual Gathering will introduce a resource to address that very question. With our colleagues from Associated Parishes for Liturgy and Mission (APLM), JBL will co-host Becoming the Story We Tell (BTS) January 9-11, 2019 at the Canterbury Conference center in Oveido, Florida (near Orlando). This Gathering is suitable for everyone interested in deepening a parish's connections with the paschal mystery and baptism, not only catechumenate practitioners. In fact, BTS may be a fine entry into a fuller catechumenate ministry.
Becoming the Story is a parish resource. You can learn more about Becoming the Story We Tell at this website. You can register for the January 2019 Gathering here.
Plus There's More!
The Gathering includes worship, workshops and keynotes to introduce this resource. Social hours provide time for fellowship and story telling with friends old and new. This is a time to reflect, to learn and to be renewed for ministry in your own setting wherever that may be. And what's not to like about a trip to Florida just as the Christmas season comes to an end? There are even ways to pay for the conference from 2018's professional development funds.
God's Great Story has everything to do with our story. Come to the Gathering and take away a tool to restore or strengthen the connections in your congregation and in your life.
You can leave your questions or comments on our blog.